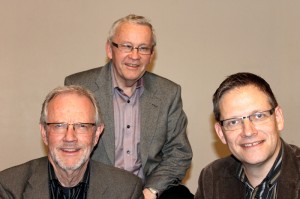 Alt er nå klart for fusjon 1/1-13 mellom MhG, NLA og HiS.
Dette markeres med en offisiell åpning og medarbeidersamling i Bergen torsdag 3. januar 2013.
(Bilde på de tre rektorene fra www.nla.no.)
Se også mine tidligere blogginlegg om saken – og om fusjonsprosessen (som for MhGs vedkommende begynte i november 2010…):
———
English: Everything is now in place for the full merger on the 1st of January 2013 between NLA University College (Bergen), Evangelical Lutheran University College (Oslo) and Gimlekollen School of Journalism and Communication (Kristiansand). The merger will be celebrated at a public event and gathering for all employees on the 3rd of January in Bergen.