Historisk fusjonsvedtak på NLAs GF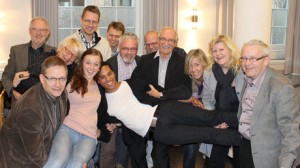 Vi har delt viktige visjoner sammen – og arbeidet lenge og intenst med prosessen…
Det har i grunnen «ligget i luften» lenge…
Men nå er det også formelt vedtatt av NLAs GF som den «mottakende» høgskolen i fusjonen: Det blir fusjon mellom NLA, HiS og MhG, med virkning fra og med 1. januar 2013.
Les mer her:
(Foto: Morten Dahle Stærk, HiS)
————-
English: The positive outcome of the merger process between Gimlekollen School of Journalism and Communication and two other Christian university colleges has been in the pipeline for quite some time. But today was the formal decision at the owners meeting at NLA University College in Bergen (as «the receiving institution» in the process): The merger will become a reality from the 1st of January 2013.