– Vi trenger journalister med kompetanse og engasjement!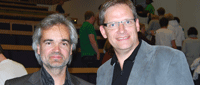 Slik formulerte Fædrelandsvennens ferske sjefredaktør Eivind Ljøstad (bildet) sitt hovedbudskap under dagens formelle åpning av studieåret 2010-2011 ved MhG.
Ikke minst pekte han på behovet for god livssynsjournalistikk i norske – og internasjonale – medier.
Denne faglige utfordringen i forhold til videre- og etterutdanning av journalister må vi ta på alvor på MhG!
—————–
English: The new chief editor at the regional newspaper Fædrelandsvennen Eivind Ljøstad spoke at our formal inauguration today about the need for journalists with competence and involvement, not the least within the whole area of worldviews and religion.