Schloss Mittersill – teaching media and engaging Europe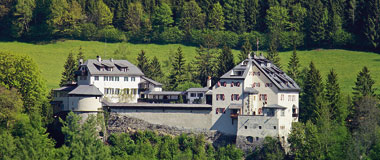 This week my wife and I have had the privilege of teaching media awareness and critique at the Bible & Culture course at the historic and beautiful Schloss Mittersill in Austria. (Read more about the fascinating history of Schloss here.)
There are 20 motivated Christian graduates at the Bible & Culture course from all over Europe and Eurasia, many of them involved in the work of IFES.
In our teaching we have focussed on understanding and engaging news as well as movies and soap operas. In other words: Media awareness and critique from a Christian worldview perspective, and how this may be applied in Christian student and youth work.
Schloss Mittersill, which is one of Gimlekollen's European partners, is now launching The Quo Vadis Institute. Our friends at the castle explains:
«Quo Vadis in Latin means «where are you going? … The phrase was chosen as it perfectly describes the core activity of the Christian Renaissance in Europe project. We want to prompt questions both of individuals and European society as a whole: where are you going? Where are we going?  Even a cursory glance at the news can engender alarm that our society seems constantly in some form of crisis. If not credit crunch, then ecological disaster; if not struggling Euro, then social and racial tensions. It is not that we as a group of followers of Jesus presume to know the way out of those crises but we want to invite influencers in our society to (re)consider the Biblical worldview as a basis to tackle these dilemmas. Some of our activities will take place in the renovated Schloss Mittersill while others will be offered in different locations across Europe.»
It will be exciting to follow the future development of The Quo Vadis Institute!
————-
Norsk: Inntrykk fra et kurs i europeiske Lagets (IFES) regi på middelalderslottet og kurssenteret Schloss Mittersill, like ved Kitzbühl, i Østerrike.