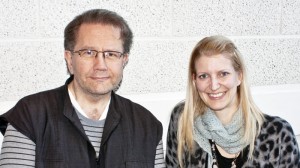 Gimlekollen Radio (Gimra) feirer stort jubileum denne uken. Det er idag (14/2) akkurat 30 år siden de første sendingene. Gimra gikk faktisk «på lufta» i februar 1982 som den andre lokalradioen i Norge.
Vi gratulerer så mye med jubileet!
Gjennom alle disse årene har Gimra hatt flere viktige funksjoner:
I en årrekke var Gimra sentral som praksisradio for studentene på Mediehøgskolen Gimlekollen.
Gimra har siden oppstarten vært et viktig kvalitativt bidrag til et mer mangfoldig medietilbud i Kristiansand og omegn. Slik sett har radioen bidratt til en lokal styrking av ytringsfriheten.
Gimras sendinger tilbyr fortsatt en fin kombinasjon av en levende lokalradio på kristent verdigrunnlag og et fyldig tilbud med kristen forkynnelse og veiledning.
Se også mitt tidligere blogginlegg 14/8-11 om De viktige lokalradioene.
(Bildet: Redaktør og daglig leder Kai-Steinar Vangen og morgenvert Ingunn Olsson Mercer. / Foto: Elisabeth Erlandsen)
Se også på gimra.no: –Viktig kvalitativt bidrag
——————–
English: Gimlekollen Radio («Gimra») is the local community radio, based at Gimlekollen and serving the city of Kristiansand and the surrounding area with local news and reports combined with various Christian programmes. It is exactly 30 years today since the first broadcasts, as the second local radio «on air» in Norway. We congratulate Gimra with its 30 year jubilee!