Nyreligiøse engler og naturalisme – også en parallell?
Prinsesse Märthas Louises engleskole er igjen høyt oppe i mediebildet, ikke minst i en rekke oppslag i VG Nett.
Interessant at en profilert kristen medieaktør som Espen Ottosen også blir intervjuet av VG. Fokus er her på den grunnleggende forskjellen mellom prinsessens nyreligiøse engler og Bibelens engler.
Samme tema finner vi også fyldig presentert hos Dekodet, sist i innlegget om humanetikeren som er mer kristen enn biskopen (!).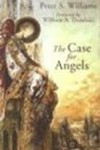 Det er verdt å merke seg at den britiske filosofen og forfatteren Peter S. Williams har gitt en grundig presentasjon og begrunnelse av et klassisk kristent syn på engler i The Case for Angels (Paternoster 2003).
Williams, som også er timelærer ved Mediehøgskolen, har for øvrig nylig publisert den fascinerende boka A Sceptic's Guide to Atheism (Paternoster 2009).
I The Case for Angels trekker Peter S Williams bl. a. en parallell mellom naturalisme og nyreligiøsitet (s. 76):
For naturalism and the New Ageism alike, the problem is how to conform reality to our desires, and the solution is technique… Whether the tecnhique in question is 'the scientific method', or occult practices (e.g. 'contacting your angel/higher self'), the focus is on humanity (or the individual) proud and autonomous at the centre of a consequently hollow universe.
Han fortsetter:
It is hardly surprising that naturalists and New Agers alike end up playing God in their different ways (the latter more literally than the former), for only the theist sees ultimate reality as a Someone else worth bowing down to.»
Provoserende? Kanskje. Tankevekkende? Absolutt!
Uansett illustrerer Williams' analyse betydningen av solid livssynskunnskap – uansett personlig tro og uavhengig av vår medierolle. Tar vi den utfordringen?
——————
English: New Age perspectives on angels are popular in the Norwegian media, not the least because they are propagated by a member of the Norwegian Royal Family! We need to understand the fundamental difference between the view of angels in New Age and in Christian theism. However, as pointed out by Peter S. Williams, there is also an interesting parallell between New Age and naturalism (see quotes above).