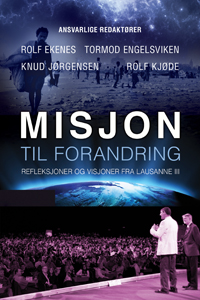 4200 mennesker fra seks kontinenter, to tredeler fra Afrika, Asia og Latin-Amerika, i alle aldre, en tredel kvinner, med én ting felles: en sterk visjon for å bringe evangeliet videre, et dypt engasjement for misjon med alt som ligger i uttrykket – sitter benket rundt utallige seksmannsbord i en gigantisk hall i Cape Town i oktober 2010…
Nå foreligger en viktig og aktuell bok om Cape Town-kongressen på norsk – les mer her!
Eller bruk følgede flyer fra forlaget: Misjon til forandring (A4 reklame)
Det er et privilegium å være med blant bidragsyterne i boka, med kapitlet om Media Messages Matter.
Boka er høyst aktuell som sommerlektyre … Derfor: Løp og kjøp!
——
English: A highly interesting book with Norwegian impressions from and reflections on The Cape Town Congress has just been published, including a chapter by my wife and myself on Media Messages Matter.