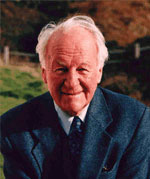 Time Magazine inkluderte i 2005 den engelske kirkelederen og forfatteren John R. W. Stott i sin liste over verdens 100 mest innflytelsesrike personer.
I forbindelse med John Stotts død 90 år gammel den 27/7 ble jeg denne uka intervjuet av NOREA Mediemisjon:
– John Stott var en statsmann i Guds rike i vår tid. Det sier rektor Lars Dahle ved Mediehøgskolen Gimlekollen. Han fortsetter:
– John Stott var opptatt av dobbel lytting – til Bibelen og samtiden. Han er kjent som grunnleggeren både av den internasjonale Lausannebevegelsen (sammen med Billy Graham), av London Institute for Contemporary Christianity og av Langham Partnership International. Stott er også kjent som forfatter til mer enn 50 bøker med svært mange lesere verden over.
Fokus i intervjuet er på personlige inntrykk fra noen møter med Stott og på den viktige evangelikale arven fra Stotts forkynnelse og forfatterskap. Ikke minst står dobbel lytting sentralt – både til Bibelens tekster og til vår pluralistiske samtid.
Lytt gjerne til intervjuet her:
Vil du vite mer om John Stotts imponerende og inspirerende livsverk? Sjekk da minnesiden som Langham Partnership International nå har opprettet.
———–
English: The evangelical statesman John R W Stott died 27th July. I was recently interviewed by Norea Radio about his influential life and work (published as an audiofile in Norwegian above). For more insights into his inspiring legacy, see The John Stott Memorial Page established by Langham Partnerships International (a significant ministry founded by John Stott).