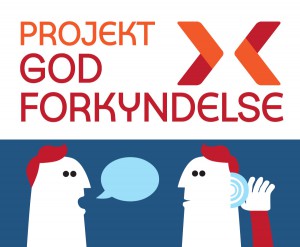 God forkynnelse er «Kristuscentreret og bibelsk, frigørende og forpligtende forkyndelse med henblik på hverdagen og evigheden».
Elleve evangelikale lutherske organisasjoner i Danmark står bak det omfattende prosjektet God forkyndelse. Prosjektet har resultert i en grundig og verdifull undersøkelse (2013-2015), en antologi (2016), en verktøykasse (2015-) og en nasjonal konferanse (28-30/1 2016). Norske Sambåndet omtalte for øvrig prosjektet i en lesverdig reportasje. Bak prosjektet står Kristent Pedagogisk Institutt (KPI) og prosjektleder er KPIs leder Carsten Hjort Pedersen. Følgende målsetning ble formulert for prosjektet:
Målet har siden starten [i 2013] været – på empirisk grundlag – at vurdere den forkyndelse, som finder sted i de 11 organisationers bagland, og på baggrund heraf svare på, hvad der kendetegner god forkyndelse i 2010-erne samt inspirere til, hvordan vi får mere god forkyndelse. Ud fra en grundlæggende overbevisning om, at kristen forkyndelse er – og fortsat bør være – en livsnerve i disse organisationers virke.
—————
Det var et privilegium å delta som foredrags- og seminarholder på konferansen med følgende bidrag:
——
English:
Eleven evangelical Lutheran mission organizations in Denmark have recently carried out a major report on «Good Preaching», culminating in a national conference for preachers (28th-30th January 2016). It is worth noticing the definition offered in the report: «Good preaching is biblical and Christocentric preaching, which is both liberating and binding, and which has everyday life and eternity as the dual horizon.»
It was both a pleasure and a privilege to participate as a plenary speaker in the national conference, addressing (a) preaching and communication, (b) preaching and apologetics, and (c) global trends in evangelical preaching. For the latter topic, I'm indebted to Peter Mead – as a consultant – for a number of insightful comments!
(Updated 30th January 2016)