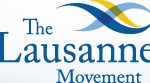 The Lausanne Global Conversation exists to provide online resources and to facilitate online discussions on key themes for the international Lausanne community.
It was launched in April 2010 as a creative initiative to prepare for the global Cape Town Congress in October that year. The site has continued as an influential ongoing resource bank and discussion facility. The thematic focus for November 2012 is «Media and the Gospel».
Overview of the contributions (regularly updated):
Media and the Gospel: A Call to the Global Lausanne Community – a statement from The Lausanne Regional Consultation on Media and the Gospel.
Introducing the topic:
"Media awareness"
"Media presence"
"Media ministries"
Reflections:
(Updated 30th Nov 2012)
————
Norwegian / Norsk: I løpet av november måned (2012) er «Media and the Gospel» i fokus på Lausannebevegelsens globale nettside for ressurser og samtaler – The Lausanne Global Conversation. Ovenfor er en oversikt over publiserte og planlagte ressurser, med jevnlig oppdatering i løpet av november måned.