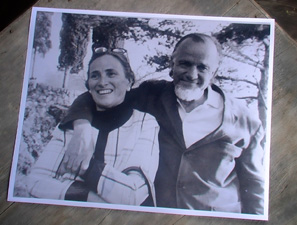 Påskeaften døde Edith Schaeffer. Sammen med sin mann, Francis A. Schaeffer (1912-1984), grunnla hun det kjente kristne livssynsinstituttet L'Abri Fellowship i 1955.
Edith Schaeffer var en fargerik kristen personlighet, også omtalt som «the Evangelical in Pearls and Chanel 5«. Hun var en profilert og innflytelsesrik evangelikal forfatter, samtidig som hun spilte en sentral rolle på hjemmebane som vertinne på L'Abri.
Jeg gir min personlige tilslutning til følgende velskrevne og vakre minneord fra NLA Mediehøgskolen Gimlekollen- kollega Stefan Gustavsson:
Få personer har haft så stort inflytande på mitt liv som Francis och Edith Schaeffer. Detta trots att jag aldrig mötte Francis (som dog 1984) och endast träffade Edith vid ett tillfälle; den stora konferensen "Kristen inför 90-talet" på Grand Hotel i Mölle. Men deras undervisning nådde mig i form av böcker och kassettband och deras liv speglades i de olika grenarna av L´Abri – det arbete de startade i Schweiz och som spreds till England, Holland … och till Sverige. Det var alltså en indirekt relation – och ändå så betydelsefull.

Ediths många böcker, L´Abri, Hidden Art, What is a Family?, Christianity is Jewish, Affliction, A Way of Seeing, Forever Music, A Life of Prayer … gjorde stora avtryck. Hon förmedlade kallelsen att älska Gud och älska människor, på ett storslaget och samtidigt vardagligt sätt. Kreativitet och skönhet – eftersom vi är skapade av en kreativ Gud som är skönhetens källa – var för Edith en viktig del av mänskligt liv, hur ofullkomligt och oansenligt livet än var. Tillsammans förmedlade Francis och Edith Schaeffer en helhetsyn, där intellektuell klarhet och ärlighet kombinerades med omsorg i mänskliga relationer, kraften i kreativt skapande och ett ständigt närvarande andligt liv. Den kristna tron som sanningen om universum, evangeliet som den goda nyheten som upprättar människan.

När jag nåddes av budet att Edith Schaeffer, 98 år gammal, avlidit i Debbie (hennes yngsta dotter) och Udo Middelmans hem i Schweiz, kände jag ett omedelbart behov av att återvända till hennes böcker och igen känna hennes trosvisshet och möta hennes omsorg om människan och se den kristna livssynen och den kristna tron få kött och blod. Hennes böcker andas kärlek till Skriften och är präglade av hennes egen dagliga närhet till Herren. Därför blev de också till så stor hjälp för många av oss. Hennes böcker fortsätter att vara till välsignelse och komma ut i nya upplagor.

För mig finns det många anledningar att tacka Gud för Edith Schaeffer och hennes livsgärning.
Så langt kollega Stefan Gustavsson.
Ellers kan også følgende minneord – fra en rekke forskjellige perspektiver – være av interesse for flere av denne bloggens lesere:
Det kan også være naturlig å henvise til Colin Duriez' informative og engasjerende standardbiografi Francis Schaeffer – An Authentic Life.
————-
English: The influential evangelical author and co-founder of L'Abri Fellowship, Edith Schaeffer, died Easter Saturday. It is appropriate to express deep gratitude for her life work and her significant authorship.